Leading international human rights charity Amnesty International will join the #FreeLatifa campaign to present a petition with almost 17.000 signatories to the United Arab Emirates Embassy in Helsinki calling for the immediate release of the Dubai Princess.
Almost 17.000 people in Finland have signed an Amnesty International petition with a further 15,000 plus signing a similar Change.org petition in the United Kingdom demanding freedom for Sheikha Latifa Al Maktoum, the daughter of the ruler of Dubai who is being held against her will in arbitrary detention in Dubai.
The petition will be handed to the United Arab Emirates in Helsinki at a demonstration organized by Amnesty International's Finnish section on Wednesday 16 October 2019 in Helsinki.
During the demonstration, participants will be holding gilded cages as a metaphor of Latifa's life in Dubai.
"For many of the women in Dubai, their country is a gilded cage – enormous in wealth yet tiny in freedom," says Frank Johansson, the director of Amnesty's Finnish section.
Princess Latifa tried to escape from Dubai in February 2018 but her boat was stormed by Emirati and Indian troops in international waters. Latifa was taken at gunpoint back to Dubai with her friend, Finnish national Tiina Jauhiainen and has not been heard from since.
Tiina Jauhiainen who will join the demonstration in Helsinki, said "I am humbled and forever grateful to the wonderful people of Finland who have not only supported myself in this horrific breach of my human rights when I was kidnapped by the UAE and India at gunpoint alongside my friend Latifa. Also, and perhaps, more importantly, they have stood up for my friend Latifa and her simple dream to be free from abuse, torture and have the right to self-determination, as we here in Finland are fortunate to have"
In September 2019 the United Nations Working Group on Enforced and Involuntary Disappearances, at a hearing at their 119th session in Geneva, confirmed that they continue to investigate the case of Princess Latifa, having taken on Princess Latifa's case In April 2018.
Princess Latifa's London-based lawyer Rodney Dixon QC said: "We are deeply concerned about Princess Latifa's safety and well-being. Our concerns have only escalated following the decision by Latifa's stepmother, Princess Haya to flee Dubai with her two children because she fears for her life. We understand that Princess Haya's decision was strongly influenced by what she had learned to be the truth about her stepdaughter's treatment."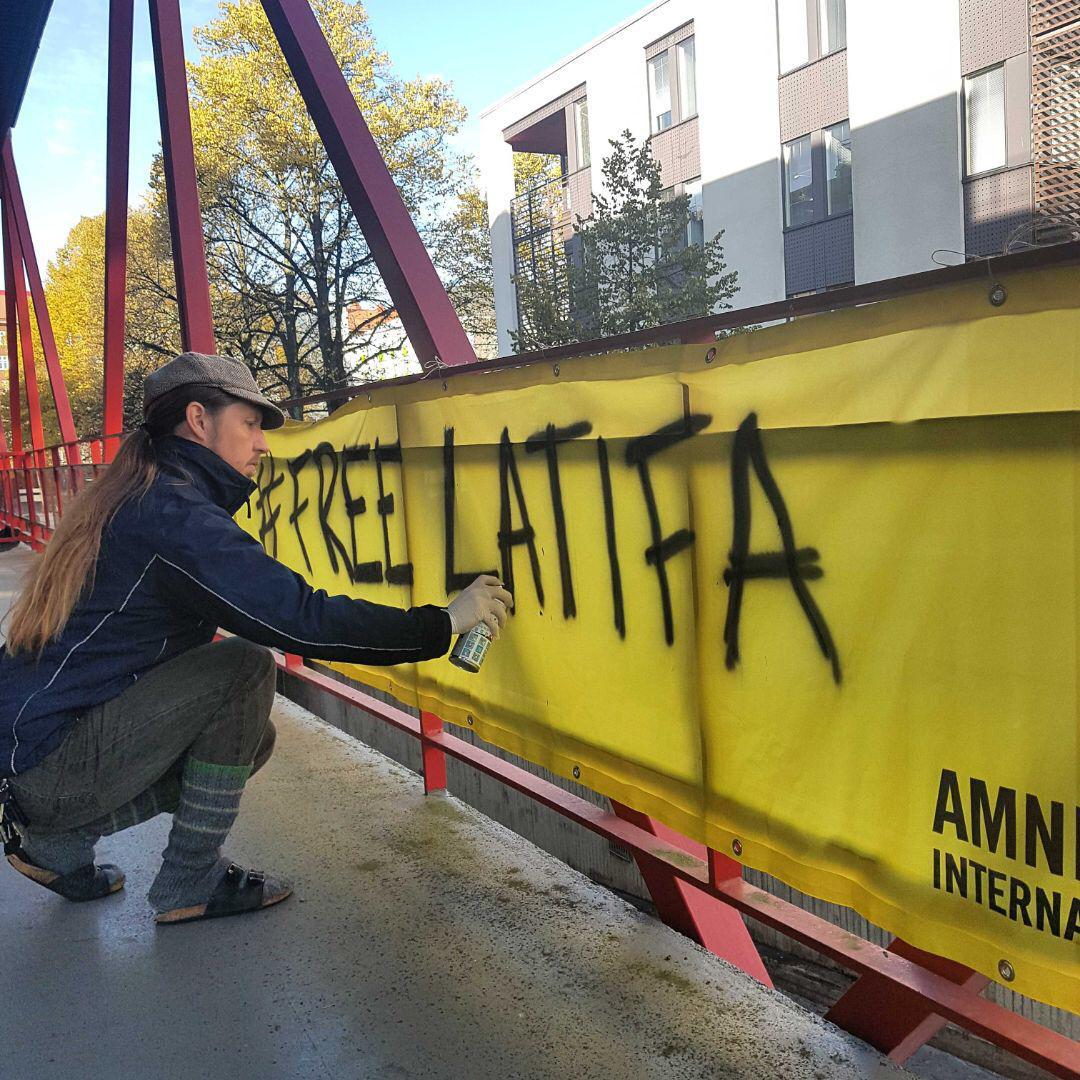 About Free Latifa: The Free Latifa Campaign is run by Latifa's family, closest friends, supporters, and advisors. Headed by Campaign Director, Latifa's best friend Tiina Jauhiainen, human rights lawyer and campaigner David Haigh. Princess Latifa's cousin Marcus Essabri and Latifa's close friends Stephania Martinengo and Marco Remes. Together with the support of not for profit legal advocacy NGO Detained International and a growing number of friends, supporters, media, lawyers, politicians and celebrities around the world the campaign has one goal, to #FreeLatifa. Updates on the campaign can be found on www.freelatifa.com
Press Contact
Tiina Jauhiainen and David Haigh
Email: latifa@freelatifa.com
Telephone: + 44 (0) 203 900 1188
Twitter: @freelatifa
Facebook: @freelatifa
Instagram: @freelatifa
Facebook: www.facebook.com/freelatifa
YouTube: www.youtube.com/freelatifa
About the Demonstration
Date: Wednesday 16th October 2019
Location:                              The Three Smiths Statue, near the United Arab emirates Embassy to the Republic of Finland
Mannerheimintie 12 B, 00100 Helsinki, Finland
Time: 9am